Week Ending 12/30/22
Happy New Year!
Like usual, the week between Christmas and New Year's becomes a race to watch all the GWNYFCA nominees I hadn't yet seen before submitting my ballot (results hit at 10am today, 12/30). There were only four this year, so the prospect shouldn't have seemed daunting. Unfortunately, two of those four were parts of franchises, so the total number of films to catch was actually seven. If only I knew the first two TERRIFIER films (including ALL HALLOWS' EVE) would prove mostly inconsequential to TERRIFIER 2 beyond the quick in-film recap, I could have saved time. (As if my completist nature would have let that happen.) Thoughts on all seven below.
It was also a race to get through the hours of music I neglected to listen to this year. I really slacked on my consumption of media in 2022, and most of what I did watch/listen to/read didn't leave much of a mark. I'm happy how my annual mix turned out, though. A lot of repeat artists from previous years, but those are often the ones that stick out to me. The Spotify playlist is in this post if you're interested.
And then there was shoring up my Top Posters of 2022 feature for The Film Stage (it should go live early next week) and writing blurbs for my Top Ten Films (publishing sometime after 1/3). So, while there's not as much writing below as previous weeks, a lot of work was completed behind the scenes.
---
What I Watched:
APOLLO 10 1/2: A SPACE AGE CHILDHOOD
(now streaming on Netflix)
With the 1969 moon landing on the horizon, NASA suddenly realizes that they've built their module too small. So, instead of scrapping what they have and waiting for the new one to be built, they decide to recruit a fourth grader in a neighboring town of Houston to train and go up first while his friends and family all believe he's attending summer camp. Why did Stan (Milo Coy) get picked? Gumption. And imagination. Because none of this actually happened. But for a self-described habitual liar (in hindsight courtesy of Jack Black's narration), it's pretty cool to think that it did.

It's a neat premise to build around and Richard Linklater does exactly that for about thirty minutes of his latest rotoscope-aestheticized animated film APOLLO 10 1/2: A SPACE AGE CHILDHOOD. He gets to wax on about his own childhood during the space boon of the 60s while taking his stand-in through the rigors of astronaut training at the guidance of Kranz (Zachary Levi) and Bostick (Glen Powell). The journey is fun even if it's just a one-to-one reenactment of the real lunar landing with a kid in place of Neil Armstrong—so much so that most of the mission is cross-cut with Apollo 11 as Stan's family watches on TV.

The other hour of runtime is a nostalgia bomb, for better or worse. It's a laundry list of TV shows, rock bands, and Houston destinations of a bygone era. None of it has any bearing on the main throughline beyond the fact that asking a kid to go to space brings with it the reality that kids live simple lives full of wants and desires that are attuned to the sole purpose of pleasure. We're watching Linklater's home movies through the fictional prism of a childhood fantasy. It's the manifestation of our universal penchant to imagine ourselves as a part of current events. Landing on the moon was a communal experience and APOLLO 10 1/2 succeeds when dealing with that phenomenon. The mileage of the rest's time capsule categorization varies.

- 6/10
SR.
(now streaming on Netflix)
As Robert Downey Sr. explains when questioned about his final film, RITTENHOUSE SQUARE, the documentary format is unique because you often don't know what it is your making until it's done. We witness those sentiments in action during the course of Chris Smith's SR.—a movie about the elder Downey's career and creativity as much as a document of the generational love and respect between a father and son (Robert Downey Jr.) as much as a eulogy that pushes those involved to say the things that are difficult to say before time is up. It can be a bit scattershot structurally as a result, but that's part of its charm. It's a collection of scenes that work thematically regardless of their narrative relationship to each other.

That makes sense considering it's exactly what Sr. seems intent on creating once he agrees to let his son produce this film as long as he gets to also make one himself. And by having Smith capture that process, those weird non-sequiturs he's delivering without stated rhyme or reason end up making it into the "real" project as well. It becomes a living montage of two artists who just happen to be related having fun. There's something wholesome about the simplicity of that conceit—especially when juxtaposed against the very public reality of where these men have been as far as drug use and reformation is concerned (a subject I will admit gets touched upon much more than I assumed).

I appreciate that last part because it ensures that SR. doesn't just become a fluff piece about one of the most famous men on earth "setting the record straight" about his fringe icon of an underground film director father whose PUTNEY SWOPE is now in the Library of Congress' Film Registry. There's some real emotion and catharsis at play, regardless of whether either is ever truly mined beyond the moment before humor gets used as deflection. But I guess that's important too since it appears that's how these two men have always lived their lives. We see what really matters in their expressions if not their words. The love they share is undeniable.

- 7/10
Damien Leone's Art the Clown Series:
ALL HALLOWS' EVE
(now streaming on Roku Channel and available on VOD/Digital HD)
You have to give writer/director Damien Leone credit. After one of his two short films centering on a demented clown named Art (Mike Giannelli) was seen on YouTube by producer Jesse Baget, an offer to include it in an anthology with other filmmakers was presented. Where most would blindly jump at the chance, Leone declined before pitching a feature length film of his own design that would feature both shorts (THE NINTH CIRCLE and TERRIFIER) as well as a third. He would write and direct everything as a vehicle specifically manufactured to get Art out into the world and garner the cult following he would subsequently earn. Unfortunately, however, the result proves exactly that: a shallow calling card that's all style and no substance.

While this isn't a problem insofar as creating a disturbing work of horror, it is when you step back and acknowledge what ALL HALLOWS' EVE provides instead of a sufficient story. First glance says an introduction to a supernatural maniac who manifests whenever an unsuspecting victim finds him lodged within their subconscious. Young Timmy (Cole Mathewson) finds an unmarked VHS tape in his candy bag on Halloween and, with the help of his sister Tia (Sydney Freihofer), cajoles their babysitter (Katie Maguire's Sarah) into watching what's on it. On comes the systematic murders of women by demons, witches, and Art himself—frightening and exciting the children in equal measure before Sarah sends them to bed.

It's an effective device to put Art the Clown in their minds and, inexplicably, in their house even though he's barely in the first vignette and not at all relevant to the second beyond peripheral atmosphere (its alien invasion thriller is pedestrian at best). But who is he? Where does he come from? Leone provides no context or motivation and thus forces us to draw our own. My conclusion is pure misogyny since he kills men swiftly (and mostly off-screen) while torturing women. The film is literally just depictions of violence against women on repeat without cause beyond sadism. Is Art a captivating baddie worth his pop culture appeal? Aesthetically, yes. Is Leone's make-up and special effects work legit? For sure. I only hope his follow-ups at least try to give us more than one-dimensional brutality.

- 4/10
TERRIFIER
(now streaming at multiple sites including VUDU and available on VOD/Digital HD)
More money apparently equals more misogyny rather than additional context since Damien Leone's TERRIFIER does little to change the game on Art the Clown (now played by David Howard Thornton) beyond removing a bit of his supernatural prowess. Yes, he still doesn't seem to be mortal as far as injuries slowing him down for a minute before he's good as new, but he no longer appears to be a spectre made flesh by the fear of his victims. This time he's just a man who puts on a costume like every other Halloween reveler. He exists in the physical realm as a sadistic clown pantomiming his excitement as he pulverizes those who cross his path.

It truly is wild how quickly the men are dispatched by comparison to the women—one of which is gleefully hacksawed in half from groin to mouth. Leone either doesn't realize the disparity or is keenly aware that his target audience wants to see women in pain while being disfigured. Because there's nothing else to this series so far. A maniac latches onto a victim, kills all those in the way of said victim, and then increases the body count with the others in their proximity once that initial victim is dead simply because he can. I'd guess the grotesque kills came to Leone first since the flimsy narrative that lets them unfold in sequence is treated as little more than an afterthought.

The only truly intriguing aspect comes via bookends depicting a survivor being interviewed about her experience and subsequently becoming homicidal as a result. Are we to believe Art rubbed off on her? Is there some underlying message about violence being contagious? I don't know since this plot point is ignored for an hour due to an unearned desire to make a "shocking" reveal that has no bearing on anything that occurs. I guess it might play into THE NINTH CIRCLE considering Art takes a backseat to other monsters in that one, but there's still no overt mythologizing. Leone films murder, plain and simple. Pretending there's anything deeper than that remains pure speculation.

- 4/10
TERRIFIER 2
(now streaming on ScreamBox and available on VOD/Digital HD)
It looks like third time's the charm when it comes to Damien Leone and Art the Clown (David Howard Thornton) as TERRIFIER 2 actually feels like a real movie. The fact that it only spends about two minutes catching us up on what happened beforehand proves just how superficial TERRIFIER and ALL HALLOWS' EVE ultimately were. Suddenly Art has a built-in backstory rather than just being randomly dropped in to wreak havoc for no reason. He killed a bunch of people on Halloween in 2017 and now Miles County wonders if he'll strike again one year later.

More than a fixed presence in the minds of kids like Sienna (Lauren LaVera) and her brother Jonathan (Elliott Fullam), however, Art has also been release of his corporeal form. Where Leone stripped him of the dream-like, Freddy Krueger existence as evil incarnate he possessed in the original short film TERRIFIER by shooting a prologue wherein Art puts on his costume and make-up in the feature-length TERRIFER, things are thankfully put back in place. Jonathan must only speak his name for him to infiltrate Sienna's nightmares and inevitably crossover into reality. They bring him to life and he thanks them by dismembering their friends and family.

The kills still skew towards misogyny, but nowhere near as much as the previous installments. It helps that Sienna isn't just some woman picked from the crowd for Art to deem a "slut" and pounce. This time it's personal—vague and unexplained mythology-wise like always, but intentional as far as drawing a connection between this monster and her recently deceased comic book illustrator father. Add The Little Pale Girl (Amelie McLain) as a hallucinatory sidekick for Art (bridging the gap between fantasy and reality in ways that render the obvious less so) and I'll admit I was captivated and invested from start to finish despite the runtime ballooning to an insane 140-minutes.

A lot remains unsaid (What is really happening with Samantha Scaffidi's Victoria Heyes and is her continued involvement more than convenient narrative absurdity?), but Leone has definitely honed the horror aspects enough to gloss over those holes. Where the other chapters were pure homicidal rage, TERRIFIER 2 better balances the tonal juxtaposition of blood, guts, and vaudeville humor. It's no longer just about extreme deaths (although they continue to be extreme). This playfulness goes a long way towards mitigating the nihilism. There's still room for improvement, but Leone appears on the right track.

- 6/10
Ti West's X Series:
X
(now streaming on Showtime and available on VOD/Digital HD)
Looking to cash in on the impending VHS boom, Wayne (Martin Henderson) decides to take his usual band of XXX misfits to the country for some "on-location" filming of a new porno written and directed by a budding auteur trying to make a name for himself in cinema (Owen Campbell's RJ). Knowing Bobby-Lynne (Brittany Snow) and Jackson (Kid Cudi) are game for whatever, his real desire is to finally put his new girlfriend Maxine (Mia Goth) on film to show the world her "x-factor." So, off they go to evangelical hillbilly country circa 1979, passing a few extra bucks to old man Howard (Stephen Ure) so he doesn't ask any questions once the cameras begin rolling on his farm.

Ti West's X seeks to deliver the type of horror thrills we used to get forty or so years ago with deliberate pacing, gruesome slasher kills, and a really gnarly pair of backwoods residents who reveal themselves to be as sex-crazed as their newest tenants. It's a fun homage with excellent gore elements and a cutthroat ambition in terms of making certain no one is above getting impaled with zero warning, but I'm not sure what else is there to transcend the obvious nature of the beast. If anything, the weirdness that does exist (see the casting of Howard's senile and horny wife) lands with more of a "huh?" than a "wow!" considering the reasons for it are left completely unexplained.

Even the last-second attempt at an "a-ha" moment falls flat since it's both easy to guess and inconsequential to the whole. If I hadn't waited this long (the film hit theaters in March) I may have rated this lower because I wouldn't have known a prequel (PEARL) and sequel (MAXXXINE) were still to come. At least that knowledge gives me hope all the mythology teases West includes here will still deliver a worthwhile payoff (and more period-specific filming styles as he moves through the decades). As such, I can give X the benefit of the doubt, accepting it as an entrypoint into a much larger world regardless of how incomplete it ultimately feels on its own.

- 6/10
PEARL
(now on VOD/Digital HD)
From THE TEXAS CHAIN SAW MASSACRE to Technicolor Douglas Sirk, writer/director Ti West looks to be roaming through the annals of cinematic history for what has quickly become a franchise for he and star/co-writer Mia Goth. While the comparison worked a little better on X (it and CHAIN SAW both take place during the 70s), PEARL goes "demented Disney" as a sole result of its commentary (it takes place in 1918 while Sirk started in the 30s). Both films are about dreamers pushing too hard against the confined nature of their origins. Maxine (Goth) saw the indie porno scene as an escape from evangelical purity. Pearl (Goth) saw Hollywood's golden age of song and dance as an escape from rural poverty.

There's more to it than that, of course. WWI is in full swing so you have anti-German sentiment, the Spanish flu, and little room for upward mobility beyond a hope and a prayer. Pearl wished her husband Howard would sweep her off her feet into a life of luxury (his family comes from money), but he fell in love with her German immigrant parents' (Tandi Wright's Ruth and Matthew Sunderland's Father) farm as much as her. This was his escape. So too was the war. And all the while Pearl was left to languish, feeding her rage with the corpses of animals before inevitably graduating to human flesh.

That's the film. Allusions to CARRIE pit daughter against mother on a collision course that does nobody any favors once Pearl's grasp on reality loosens for good. Other characters (David Corenswet's projectionist and Emma Jenkins-Purro's Mitsy) pop-up to be what Pearl needs in the moment—both as friends and victims depending on how much of herself she reveals to them. And I'd argue none of that really differentiates it from its predecessor considering West is intentionally drawing parallels by making Maxine and Pearl identical in mannerisms and desires. Yes, it shows how little has changed for women seeking autonomy despite sixty years passing, but it never truly delves deeper than motive. Goth is great (that monologue) and the style homages are fun, but that's about it for me.

- 6/10
---
Cinematic F-Bomb -
Jack Nicholson in FIVE EASY PIECES making us wonder if that f-bomb was genuine since it's the only one in the film despite an R-rating. (Substack apparently can't handle an embedded gif, so you'll have to click over for a smoother experience. Or see everything at cinematicfbombs.com.)
---
New Releases This Week:
(Review links where applicable)
Opening Buffalo-area theaters 12/30/22 -
Streaming from 12/30/22 -
BURIAL - Shudder & AMC+ on 12/30

WHITE NOISE - Netflix on 12/30

"White Noise is funny, insightful, and downright scary at times for so much of that first two-thirds that it seems almost like the last portion was set-up to fail." - Full review at jaredmobarak.com.

WILDCAT - Amazon Prime on 12/30

THE KINGS OF THE WORLD - Netflix on 1/4

"[It's] in many respects a ghost story about five lost souls fending for themselves on the streets of Medellín who leave in search of the life that was taken from them when the government seized miles and miles of land from their people to mine gold." - Full review at HHYS.

MARS ONE - Netflix on 1/5
---
Now on VOD/Digital HD -
JOYRIDE (12/24)

BROADWAY RISING (12/27)

HEAD RUSH (12/27)

LEONOR WILL NEVER DIE (12/27)

SHE (12/27)
---
Screen Passes (Subscribers Only):
I used to try and give my Movies Anywhere Screen Passes out via Twitter, but I think this can be a much better outlet. Every month users of the service get 3 Screen Passes to share that are akin to a "rental" of an eligible title I own in my library. They reset on the first of each month.
The gist: You need a Movies Anywhere account to accept/use the pass. You have 7 days to accept it, 14 days to watch it after accepting, and 72-hrs to finish it once you hit play. You also must eventually purchase your own movie on the platform to accept more than 3 total passes.
FOR SUBSCRIBERS ONLY. Shoot me an email with subject header "Screen Pass" to heyhaveyouseen.substack@gmail.com to claim one. First come, first served (I will update this post with "CLAIMED" once they are gone). Here's a selection of the 1828 titles currently available: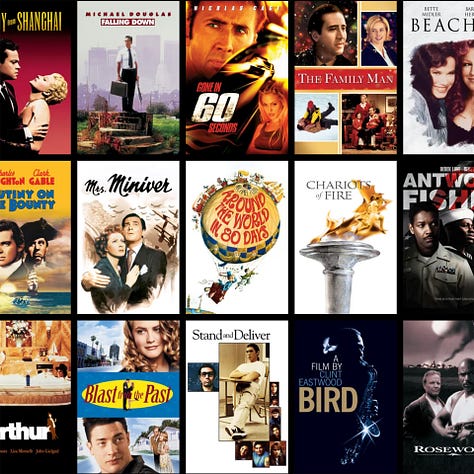 ---
From the press kit archive:
Thanks for reading Hey, have you seen ...?! Subscribe for free to receive new posts and support my work.